R U G B Y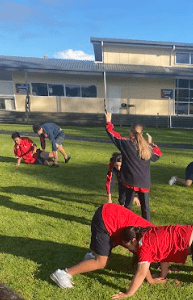 This morning room 13 had kelly sports, for our kelly sports we had rugby league. We practiced how to tackle, how to pass and we also played a few games. I was honestly just tired and my legs were not cooperating so I sat out during a few of the activities, though I did cheer people on. 
A few activities we had were, ball rush (on our knees), this passing game (where you had to like run and then roll the ball back so the person behind could throw it to the next person so they could do the same), a type of rugby game but in a formation type way (Idk how to explain it), and a game like invisible touch but rugby version (Tackles and you actually had a ball). 
That's basically it.