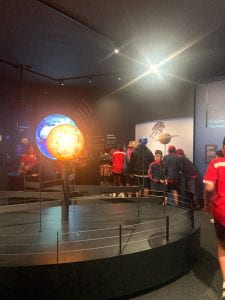 On Thursday last week we went on a trip to stardome to learn more about the stars of Matariki and how Matariki came to be, we also learned about a few other clusters/stars and their names of what the stars form when put together.
When we arrived to Stardome we were met with a bunch of facts about the Galaxy, plus other information that relates to space and things that lay within the surface of the night sky we thought had no further meaning to. The first thing we did when we got there was setting the rules we were expected to follow, afterwards we went into a room so we could be informed about different formations of stars, where they were located etc. After we were set into groups of 6 so we could do an activity, the activity was just to find the answer for the questions asked by searching around the inside of Stardome. Once that was over we were sent to a different room where a film about Stars, the Matariki cluster and how Matariki came to be was shown. I fell asleep at some point of the film and woke up not too long before it finished.
We then left and returned to school at around 3.